Ein Hinweis zu den Sinnesorganen
Der Heilige Georg hatte den Drachen getötet. Auch der Heilige Beatus vom Thunersee hatte den Drachen erschlagen. Das sind nicht einfältige Kindergeschichten. Den Drachen gibt es wirklich – er lebt in Dir!
About the sense organs
The Holy George has killed the dragon. The Holy Beatus from the Lake of Thun in Switzerland has beaten the dragon to death as well. This are not naïve children's stories. The dragon really exists – he lives within you! The sense organs are the dragon.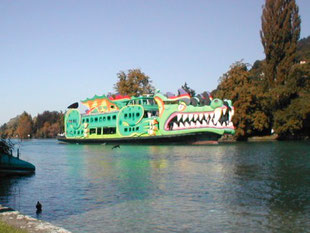 Die Sinnesorgane gehören unter Kontrolle
Die Sinnesorgane sind der Drachen.
In den ersten eineinhalb Jahren der abgebrochenen Grossen Meditation hatte sich der Drache etwas beruhigt. Ich sag' mal, es wurde ihm hier oben langweilig und damit gewann ich mehr Freiheit. Es ist ein herrliches Gefühl, wenn die Sinnesorgane nicht ständig nach etwas verlangen.
Das hatte sich aber in den letzten Wochen geändert. Durch die vielen Besuche im Tal bekam der Drache wieder viele Anregungen und ich musste ihn gezielt besänftigen. Ich bin Gottes-froh, wenn ich am 8. Dezember endlich dicht machen kann. Dann wird der Drachen erst mal in seine Höhle verwiesen, damit ich aufleben kann.
The sense organs have to be controlled
In the first one and a half year of the broken down retreat the dragon got a bit quiet. Let me say, it was boring for him living in the heights of the mountains. And with that I got more liberty. It is just a good feeling when the sense organs not always are demanding.
This has changed in the last weeks. Through to the frequent visits down in the valley the dragon got a lot of stimulations and he had to be calmed down well-directed. I'm looking forward to the 8th of December when I can batten down the hatches. Then the dragon will be sent first back to his cave, for I can live free.
---